Fully Automatic Crimping Machines
JN03SD-(WP)-FM10


Carrying 4-ton Servo Press for big wire (2mm2~5mm2).
8 mm2 also available with other attachment.
2-wire selector and Manual APL changer for easy changeover   (Option)
Connectable to personal computer
Chopper for defective products (Option)
| | |
| --- | --- |
| Applications | For Consumer Appliances, For Automotive |
| Wire Size | AWG #14~ #10 |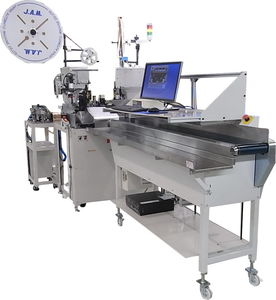 Model
JN03SD-(WP)-FM10
Functions
Wire cutting (Closed loop) , Dual-end strip, Strip depth, Dual-end half strip, Crimp (Sink unit), Crimp positioning ,
Crimp height, Dual-end seal insertion, Jogging
Capacity
Dual-end crimp 1.05sec/pc. (Length 70mm 3,420pcs/hr.)
Seal insertion crimp 1.50sec/pc. (Length 70mm 2,400pcs/hr.)
Wire size
2.0~5.0mm2 (AVSS equivalent AWG#14~10) Wire outer diameter φ5.0mm or less
Wire cutting length
70~20,000mm ( 0.1mm increment) ※Min. length changes according to processing conditions
Wire cutting accuracy
Less than 100mm 0.5mm+(Wire length×0.002), More than 100mm 1.0mm+(Wire length×0.002)
Strip length
0~16.0mm ※The capacity changes according to the working conditions.
Strip depth
Max. adjustment 3mm (300 step:1 step:0.01mm)
Crimp capacity
39.2KN (4.0TON equivalent) Servo press(SBM400)×2 units Press stroke 30/35/40 mm setting possible .
Aplicator
AS40, AS42, AS30 ※ AS80 Call sales rep
Detectors
Wire presence , Wire overload, Strip error for laser type(LMC01) ,Terminal presence, Terminal overload,
Crimp error (CFM-MX20), Seal insertion error ( Optical fiber sensor) , Low air pressure
Power source
3-phase AC200V±20V 50/60Hz 30A
Compressed air
0.5Mpa(5kgf/cm2) approx. 300NL/min (Use clean dry air)
Dimensions
1,300W × 1,420D × 1,450H approx. 700kg
Options
2-wire pre-feeder, Side 2: Feed open SW, End-side combination reel stand , Terminal paper winding devaice, Non-cut carrier
pipe, Signal tower, 2-wire selector: 8sq spec , Wire chopper , Carrier cutter, Seal unit , Safety cover, PC desk, Roller feed
※J.A.M reserves the right to change specifications without any prior notice.
◆ Proper ground required.